Fishing Courses and Events
Single Handed Spey Casting Course
Saturday 11th May 2019
A one day introduction / instructional day in the Vale of Clwyd for a limited number of anglers. An ideal opportunity to learn new game angling skills in time for the Sea Trout.
Day to include:
Single, double and circle casts off both shoulders and their application to fishing situations. The cost of the day is £120 – a deposit is required to reserve your place.
Spey casting allows you to:
Cast from either bank.
Cast safely in an up or down stream wind.
Cast in confined spaces.
Catch more fish!
Other Courses Available
Full day introduction to fly fishing course, tailored to suit the clients requirements, to include - tackle suitability and set up, basic casts, safety and fishing tactics.
Half or full day intermediate and improver course tailored for the progressive fly fisher, to include problem solving, an introduction to advanced casts and tactics.
Half or full day advanced course, tailored for the experienced angler looking to develop their skills, such as problem solving, distance, presentation, spey and curved casts. Transitioning from one discipline to another eg Rainbow Trout to Sea Trout.
Full member of Association of Advanced Professional Game Angling Instructors.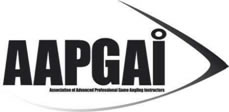 Please contact me for further information: